?

New: Improved sidebar navigation design
Whereas before, the sidebar merely listed the different exercises or templates that could be filled out, now it functions as the center of navigation while working on a project brief with your team and/or clients. We want you to feel confident and reassured in your briefing game, therefore the sidebar is flexible in use and empowers you to tailor the briefing process to your needs.
Benefits of the new sidebar navigation design:
✅ A simple and intuitive way to guide your client through the briefing process.
✅ Tailor your process/workflow even further by adding new exercises or create your own from scratch and incorporate them into the order that you want.
✅ The drag & drop functions are easy and intuitive.
✅ You have an instant overview of the workflow.
✅ Time-saving: When all the different sections are filled out and you are ready to share the finished briefing with your team or client, the downloadable PDF reflects the order of the sections in your sidebar navigation, saving you time designing a professional-looking and presentable creative brief.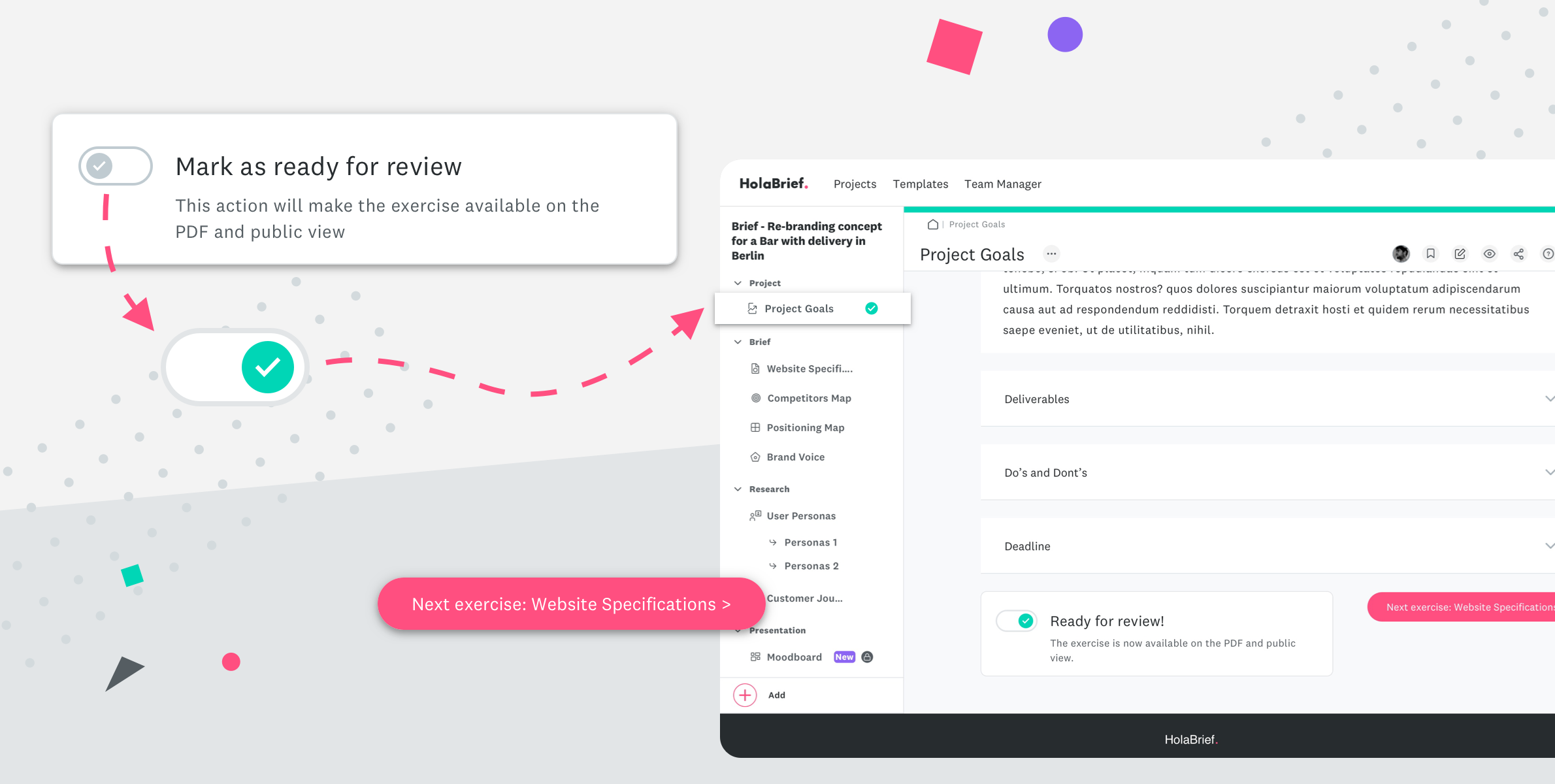 ? New: Mark for review
After extensive user research, we decided to optimize the "mark as completed" flow in HolaBrief, when completing an exercise. The new flow gives you more control and allows you to toggle ON the "mark for review" button when all the necessary information is filled out in each exercise. After marking for review, the exercise is immediately available to share as a PDF download or shareable link. Still, want to make some changes? Easily toggle OFF the status of the exercise so you can continue working without having the exercise publicly available.
When the exercise is "marked for review", a green checkmark is added to the sidebar navigation.
Benefits of the new "mark for review" interface:
✅ You have full control over the status of the exercise.
✅ A less distracting workflow allows you to concentrate on the task and not the usability of the tool.
✅ You'll have a sense of progress as the creative brief advances.
✅ It's a reversible action.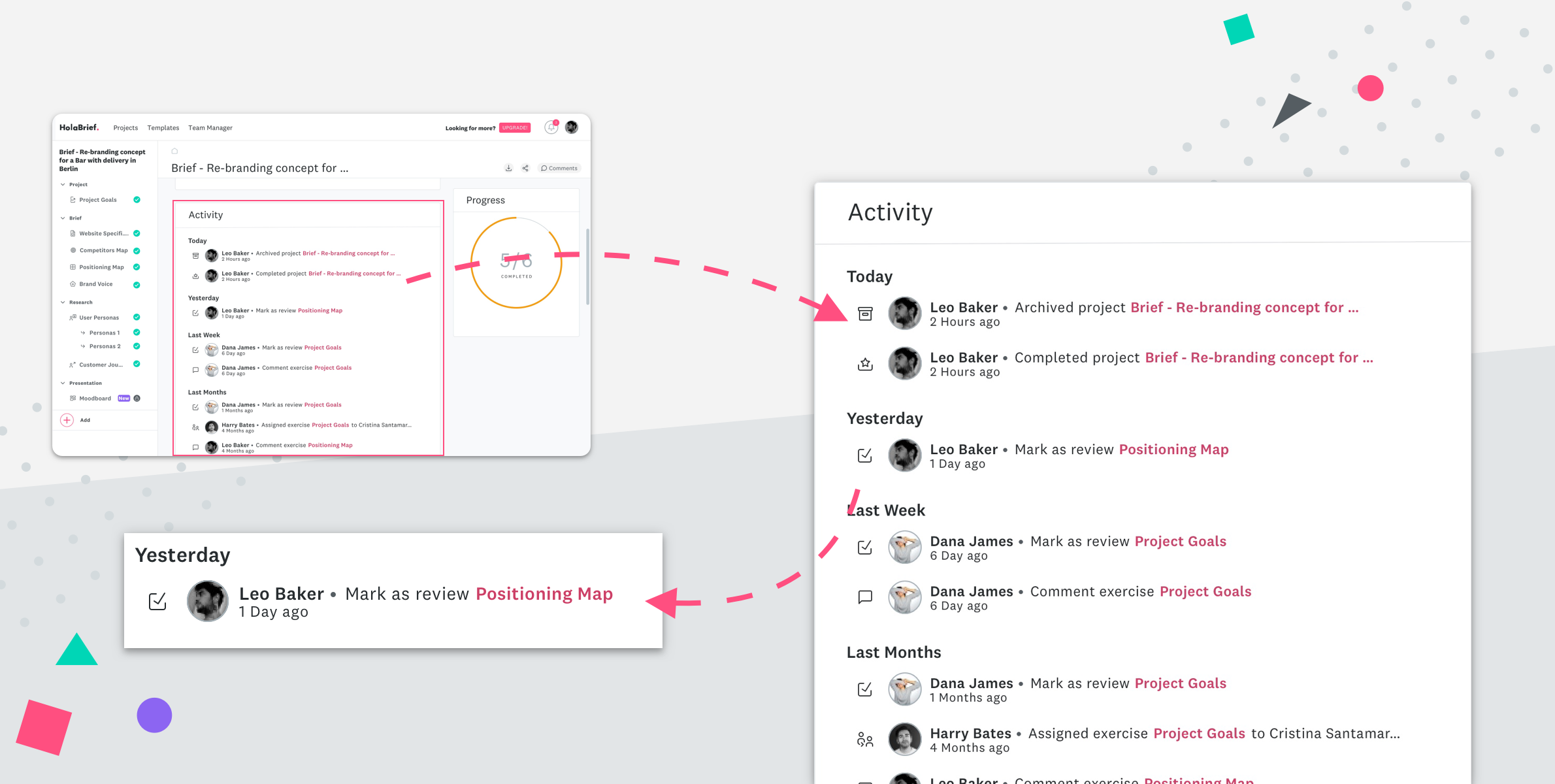 ? New: Activity panel
This new feature came about during our user research sessions when some of our users mentioned they need a place to track changes in their projects. So we got to work: Hello new activity panel!
The HolaBrief activity panel within each project works as a history of changes for exercises and the project as a whole. It allows you to have a clear overview of all activities. Are your clients not responding quickly enough and delaying the project? Not sure who of your teammates filled out certain exercises? Our activity panel functions as a traceable space that empowers you to avoid the dreaded scope creep thanks to registered changes.
These include: Created project, Add exercise, Delete exercise, Assigned exercise, Edited exercise, Comment exercise, Mark exercise for review, Completed project and Archived project.
Benefits of the new activity panel:
✅ Now you have a clear overview of all activities within your project.
✅ Have a traceable space where changes are registered in case there is a problem.
✅ Avoid scope creep by clear overviews of the workflow.
We hope you like our improvements. Stay tuned for a few larger updates in the next weeks!

New to HolaBrief and want to give it a try? Start a free HolaBrief account, create your template and give it a test drive.