? What is Brand Voice?
Jeff Bezos is famous for succinctly defining branding as a brand's reputation and what people say about you when you are not around. A brand voice is essentially how a consumer 'hears' or perceives a brand through messaging. Ideally, a brand voice should match the exact brand personality you have tried so hard to build over the years. While brand voice can lend itself to infinite possibilities of content variations and mediums through which they are disseminated – it should 'sound' the same to the customer who hears it and they should instantly recognize it as coming from your brand. So whether your customer sees a poster on a bus or, receives a flyer on the street or, comes across a video on social media – your brand voice should immediately define your brand.
In ideal terms, your brand voice should have the following qualities:
Distinct

Why are Apple or Nike's brand voices so categorically distinctive? Both have invested over the years in creating a very specific brand voice that is uniquely theirs and can never be mistaken for anyone else. Your brand voice needs to be distinctive enough to always make you stand out – no matter how thick the crowd around you gets.
Easily Identifiable

Your brand voice is your identity and it becomes uniquely yours the more you use it. Even without using logos, or proprietary visual and stylistic elements from your brand, your brand voice should be distinctive enough to be identified anywhere – in ad copies, web copy, social media content and more.
Complementary

Your brand voice should actively complement the rest of the stylistic, design, and other elements that constitute your brand identity. They need to come together to form the whole of your brand identity.
Consistent

Your brand voice needs to be at the forefront of every piece of messaging you draft for your company. Whether it's a response to a comment on social media or center spread ad copy – your brand voice needs to remain consistent throughout.
? Brand Voice Examples
While there are a number of examples of great brand voices, here are a few relevant ones combined with their personality traits that immediately stand out to most users:
Starbucks: The Starbucks voice is functional and expressive.
Uber: The Uber brand voice is considerate, simple, bold, and consistent.
MailChimp: The Mailchimp brand voice is clear, genuine, and with a bit of dry humor.
Harley-Davidson: The Harley-Davidson voice is strong, confident, and aggressive.
Coca-Cola: The Coca-Cola voice is positive, friendly, and down-to-earth.
Old Spice: The Old Spice voice is humorous and masculine.
Tiffany: The Tiffany tone of voice is witty, elegant, and classic.
KFC: KFC modernized its classic brand voice while keeping its heritage and history intact, by tapping

into the

'everyday moments' of its consumers.

Nike

: Nike is bold and seems to communicate directly with the spirit of the athlete in every human being –irrespective of whether they are actually physically active or not.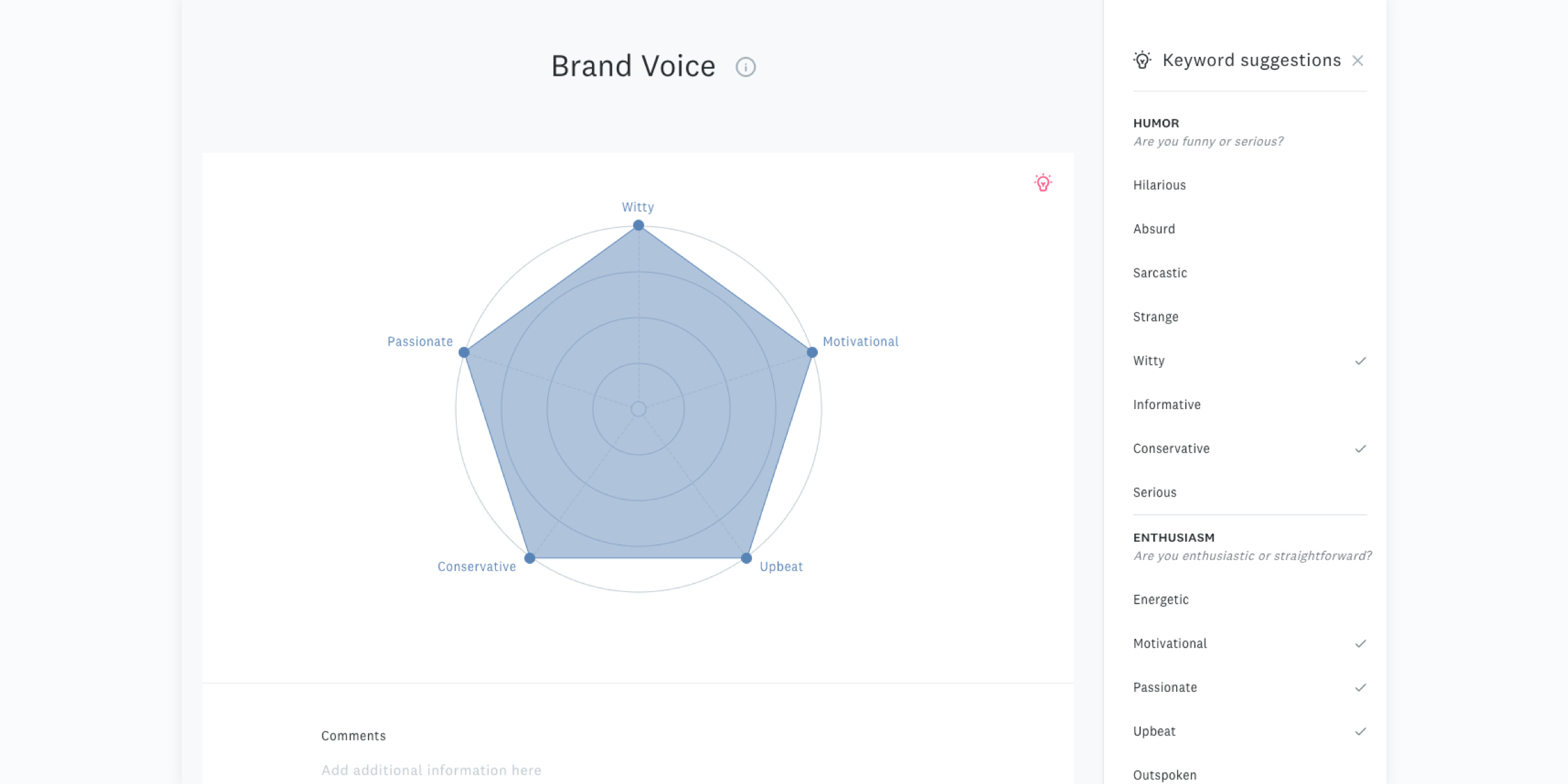 Need some inspiration for finding your Brand Voice? When clicking the lightbulb icon, HolaBrief will suggest a library of emotions to choose from within the Brand Voice Template.
✍️ 8 Ways to Define a Consistent and Engaging Tone for your Brand
Define Brand Intent
Your brand voice is built on the intent of your brand that ultimately boils down to your company's mission, vision, and values. That's why it's very important to clearly establish your brand's raison d'être. This will help inform your brand voice and make it more clearly defined.
Define Brand Purpose
Your company's mission statement will help you hone and polish the purpose of your brand. This consists of the what, how and why of your brand. In general, people love brands that they find inspiring or cool. Thus, it helps to stay a bit off-the-beaten-track for your mission statement.
Review Your Marketing Materials
A thorough periodic review of all your marketing platforms and materials to ensure consistency in brand voice will serve your brand well in the long run. If you know exactly what the brand voice should be, inconsistencies will jump out at you.
Target The Right Audience
Your brand voice is the identity your customer recognizes, but you still need to know how to talk to them. This means knowing your customers' expectations, desires, pain points and triggers like the back of your hand. One way of getting this information is through customer research surveys. For companies not willing to spend too much on large-scale survey project, you can make use of web tools like SurveyMonkey and Typeform to create simple, brief surveys. You can also make use of social listening platforms to know what customers are saying about your brand. Getting proper guidance for effective Brand Tracking can be a huge help here.
Choose a brand voice that syncs with your industry
You don't want to be addressed in slang by an investment firm! Always consider your industry when you decide on your tone of voice. On the other hand, you want to talk to your audience, but you shouldn't talk like your audience unless you want to be perceived as 'greasing the wheel'. For example, perfume brands can be remembered for their risqué variety of humor instead of appealing to elegance like all its competitors. The situation will be driven by the context you are in.
Keep stakeholders and employees in the know
Your stakeholders and your employees are representatives of your brand and it's important for them to understand your brand voice and get it right in their messaging. That messaging is reflected everywhere from your marketing material to the product packaging and needs to be done right by the variety of people involved in creating all that. The same tone will also be used in all communications about the company as well as internal and external communications.
Don't follow your competitors
Branding choices that appear to imitate your competition will make yours look like a cheaper knock-off. It is better to be distinct, if not entirely different when it comes to competitor branding. You should focus on values, qualities, and traits that are distinct from your competitors. HolaBrief's Competitor Mapping Template should be able to help you assess competitor-branding better so you can devise your own unique messaging.
Turn Customers into Advocates of Your Brand
There are few things as appealing and powerfully convincing for a brand than to have their customers turn into brand advocates. This can be done through the help of social media influencers who use your product and asking them to review your products or be an advocate for your brand.
–
Interested in analyzing your Brand Voice with the help of our easy-to-use, interactive and strategic templates? Sign up for HolaBrief (it's free), create your first Discovery Project, and give it a test drive.