Today's projects typically involve multiple disciplines, each working on interdependent components. Requirements go across disciplines, but without a single source of truth, it is nearly impossible to get a complete overview of the project. Fleeting Post-it notes, important files and google docs are being sent around (and getting lost), the dread of endless email threads is real. And we're not even talking about the endless revisions because of miscommunication and misalignment. Before starting the creative work, creative teams in agencies need a single place to align on goals, requirements, and deliverables which can be accessed throughout the project lifecycle and are being reviewed and signed off by the client or team lead.
Insert the online creative briefing tool. It functions as a north star that everyone – from internal team members to contractors to the client –can reference throughout the project and beyond. That is why a creative briefing tool is a great investment for creative teams. A well-written creative brief is the best starting point to a solid project plan and ultimately a successful project.
With so many different briefing tools for creative teams out there, it can be hard to pick that one creative briefing tool that matches your team's processes and sets you up for standout client work. We help you narrow it down to 5 tools and share how creative teams in agencies are using them.
Before we get into the tools though, we'd first like to list up a few criteria we gathered from the extensive research we conducted with the 1000's of agencies using our discovery platform, on why creative teams value working with online creative briefing tools:
Why are online creative briefing tools important for creative teams?
Streamline workflows. Online creative briefing tools for interdependent creative teams help them keep an up-to-date hub for all client info. A place to centralize workflows and store any documents already created that can help each team to clear things up before starting the work: Examples of previous campaigns, brand guidelines, presentations, etc. Less Micromanaging, more creating.

Track feedback. When interdependent teams work together on a project it's important to them that feedback on the creative brief gets organized so the different team members can review, comment, and easily reference as they go.
Facilitate proofing and approval. Creative teams in agencies value an online creative briefing tool for its centralization of feedback and proofing. This way there is only one source of truth instead of sharing across post-its, emails, or slack.
Easy collaboration. When thinking about creative briefing tools for creative teams who work interdependently, you need to think about assigning ownership and responsibilities so everyone is clear on the next steps.
Standardize processes to save time. Since there are a lot of moving parts for creative teams in agencies, it's best to work with a creative briefing tool that provides proven templates that can be customized and adapted to any project's needs.
Make informed decisions. The creative briefs – the output of working with online creative briefing tools – should provide a deep insight into the project, and reveal the strategic analysis conducted during discovery. Only then can they function as the foundation for any creative team to make informed decisions and create standout work.
With these insights in mind, we're bringing you online creative briefing tools with the features and functionalities that can help any creative teamwork faster and maximize productivity. So read on to discover our picks for the best online creative briefing tools for creative teams.

1. HolaBrief


HolaBrief is one of the top online creative briefing tools for creative teams because of its ability to streamline briefing in one up-to-date hub, speed up the briefing process with proven templates to align on goals, and centralize proofing and approval. It is one of the best online creative briefing tools on the market. What truly makes HolaBrief stand out is how they replace boring questionnaires with fun, interactive tools that dig deeper into the client's challenge. Its easy-to-use drag-and-drop interface was created with briefing collaboration in mind. As a bonus, thanks to their integration with Adobe Creative Cloud Libraries, creative teams in agencies can keep the final creative brief consistent with their branding and easily add logo and colors to the final briefing document.
Features of HolaBrief:
Proven templates to standardize workflows which contain moodboard sections, user personas, competitor analysis, questionnaires, and more.
Keep everything (and everyone) organized with a central spot for comments
Customize any existing wording or section to fit your needs
A brief checklist and central dashboard help to easily stay on track
Keep brand consistency with the Integration with Adobe Creative Cloud Libraries
Clients have the possibility to access the brief with guest profiles
Present the final creative brief with a secure sharable link or download it as a PDF
2. Simple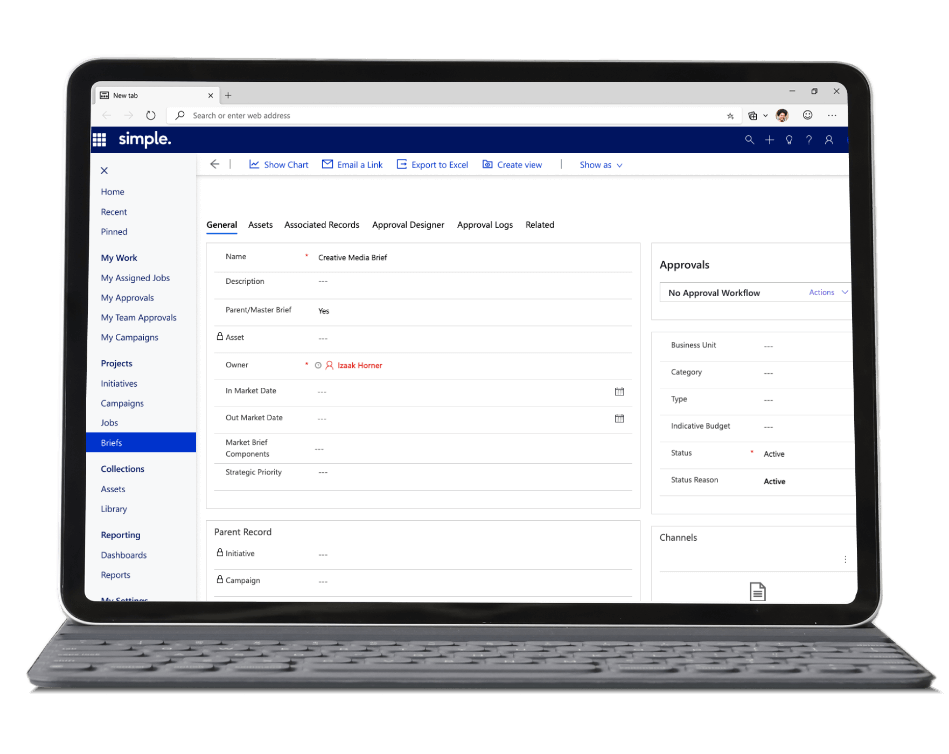 Simple's Marketing Operations platform also contains briefing software that helps creative teams in agencies to brief better. With Simple's briefing software, creatives can easily streamline the briefing process by eliminating repeated work, achieving alignment with marketing's strategic objectives, and tracking feedback on the briefing and creative process, all in one place. In terms of online briefing tools for creative teams, Simple streamlines the briefing process to improve consistency which is why it's in our top 5 of best briefing tools for creative teams.
Features of Simple:
Develop best-practice templates and workflows for creative briefs
Store and distribute your essential documents
Centralize and re-use information
Manage approvals
3. Content Snare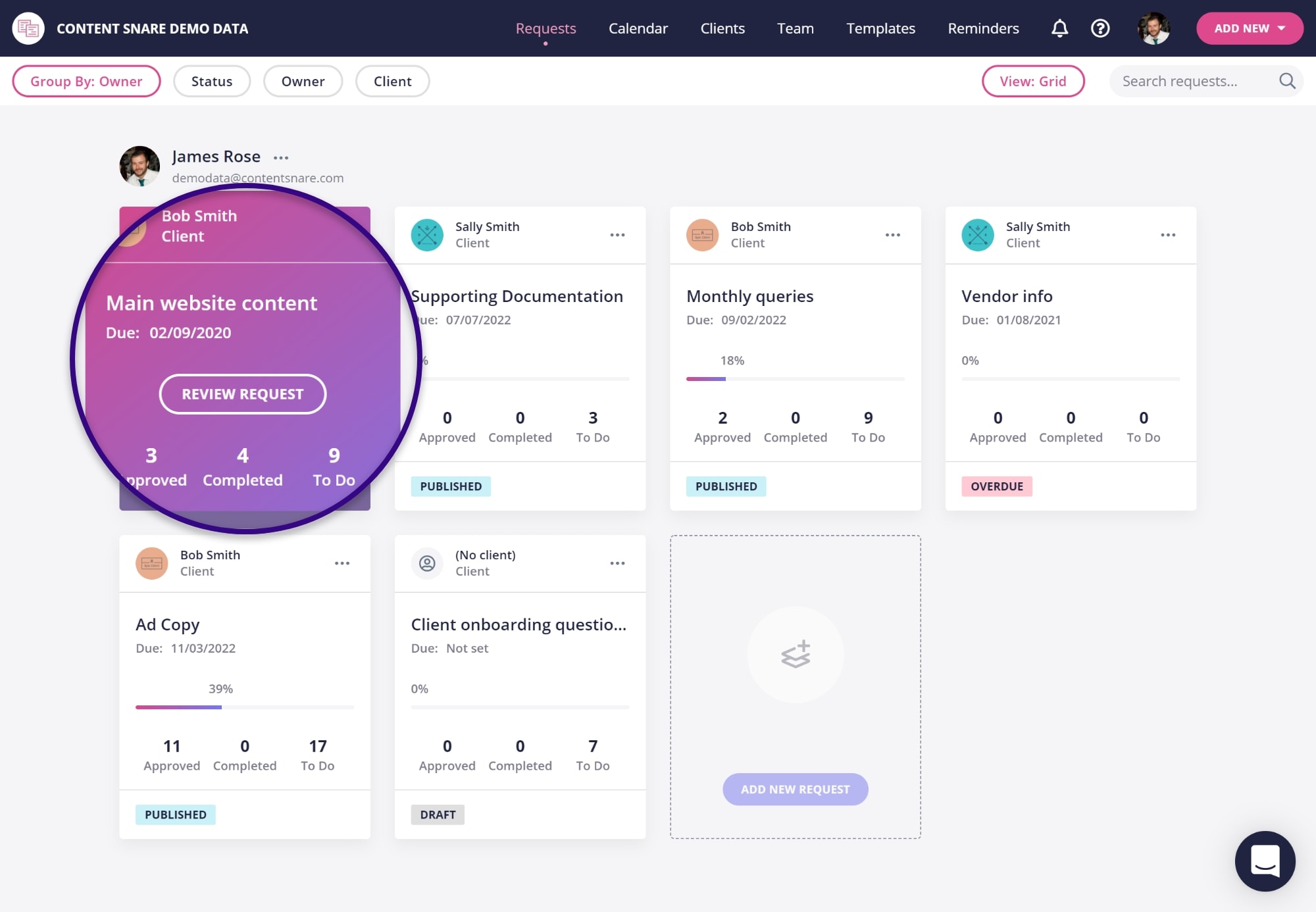 Content Snare is a great creative briefing tool because it gathers all the information creative teams need to start a project into one place – content, copy, images, and discussions. With Content Snare, a creative team can easily gather website content faster than you thought possible and remind clients automatically so that you don't have to waste time chasing them. This flexible tool is easy-to-use and beginner-friendly, which is why it's on our list of best online creative briefing tools for creative teams.
Features of Content Snare:
Unlimited questions & upload areas
20+ creative briefing templates and pre-made email templates
Zapier integration
4. Collato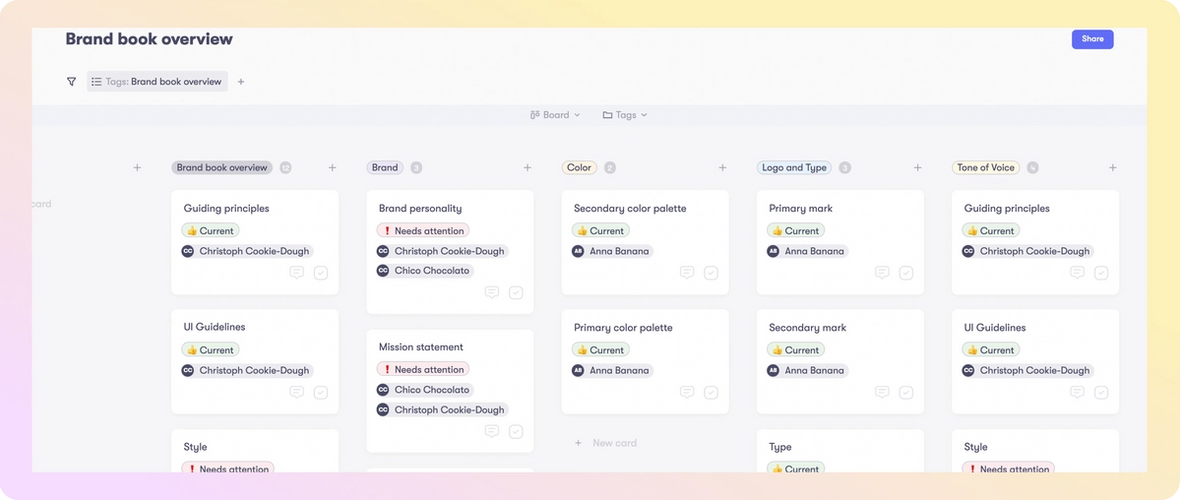 Collato is a creative workflow management tool that fosters visual content collaboration for creative teams. Thanks to this easy-to-use collaboration tool every person on your team will have a solid framework to work with, while still giving them the freedom to do what they do best. With Collato creative teams can brief, approve and store creative content, in one place, work with predefined templates or create their own, and invite external partners to select content with a simple link – that's why it's one of the best creative briefing tools for creative teams.
Features of Collato:
Manage all your creative assets in one central place.
Request missing information or for more detail through tags and mentions.
Video collaboration: Respond to comments in an engaging way – with emojis, mentions, attachments, or video replies.
Pick a predefined template or create your own
5. Design Pilot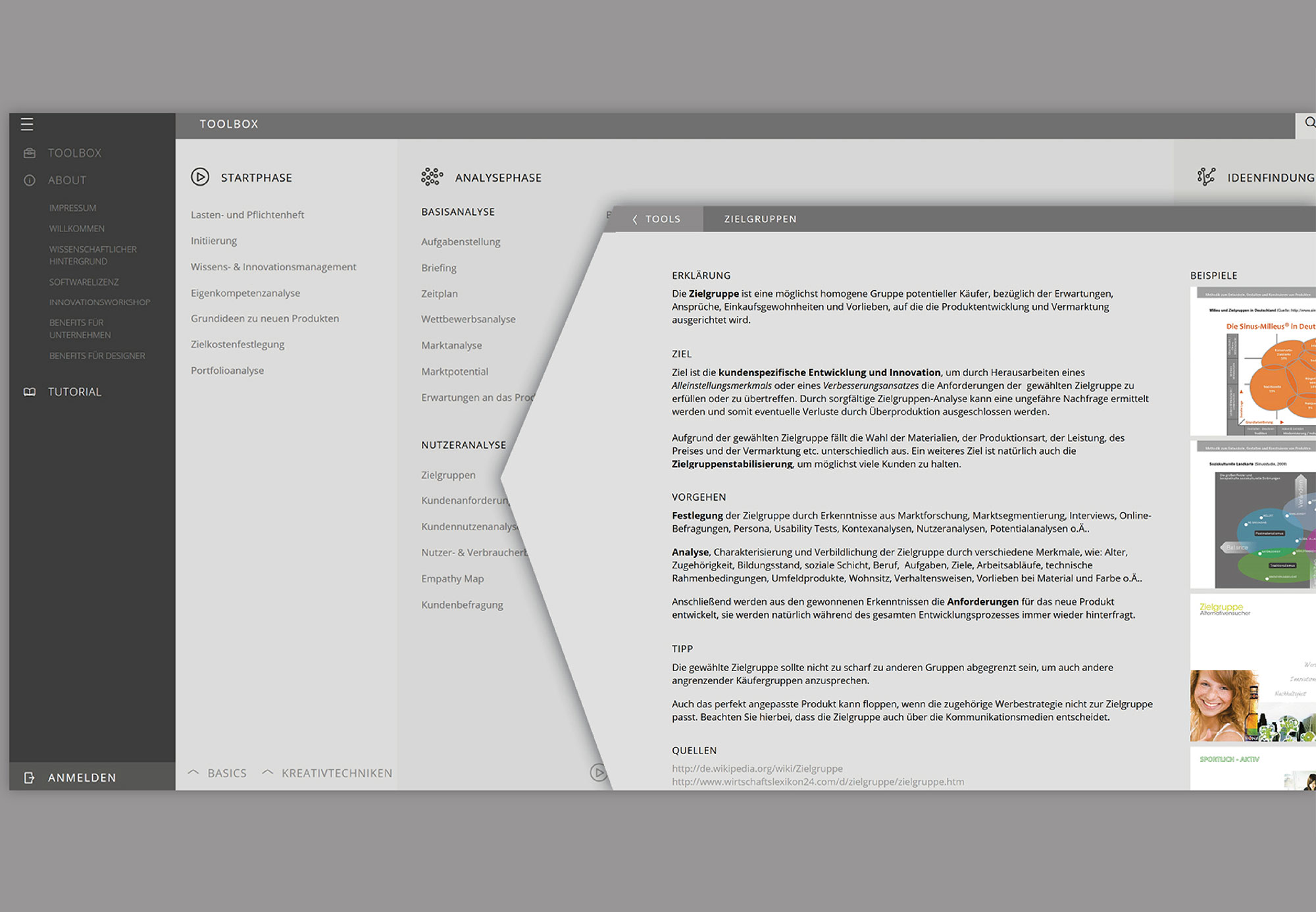 A lesser-known creative briefing tool, Design Pilot is one of Germany's top design method toolboxes for creative interdisciplinary teams consisting of designers, creatives, engineers, and developers. Design Pilot structures the design development process into 8 phases, each offering a total of 175 tools and 75 creativity techniques with explanatory texts and graphics. Their first 2 phases – Initiation and Research – can be used to set up your creative brief for interdisciplinary creative teams. In terms of online creative briefing tools for creative teams, Design Pilot has some killer features that you should consider looking into if you are German-speaking as it assists in communication, structures, and systematizes the product development with the client or customer, and supports in solving complex tasks.
Features of Design Pilot:
Create, edit and share projects in this creative design development tool
175 tools and 75 creative techniques with explanatory texts and graphics are divided into the eight phases of the design development process and offer guidelines for use
Do you work on a creative team that can benefit from one of these online creative briefing tools for creative teams? Learn more about how you can get started on HolaBrief for free today.