A most requested feature, and finally there, the very beginnings of our HolaBrief Client Portal.
Research has shown us that one of the biggest pain points agencies suffer from is not having a defined process in place when working with clients. And this is exactly what our team at HolaBrief is working on non-stop: Making sure our tool is the place for all your client-facing needs. This all starts with a smooth briefing process where both the agency and the client easily share their wants and needs.
Watch a short demo video of the new feature, explained by our co-founder Leticia or let's dig in more precisely below on how our newest feature ticks all the boxes:
Sharing Exercises
Within HolaBrief you as an agency or freelancer can easily select multiple strategic exercises that make up your briefing document. Either use our set of pre-defined templates, or create your own. Either way, after setting up your document structure, you can now easily share sections of your brief with your client without them needing to create an account. This way your clients can add the necessary information, hassle-free. Simply click on the "Share" button top right of your screen and select the exercises you want your client to fill out.
Completing Exercises Without An Account
When selecting the sections of your brief your client needs to fill out, you are now able to copy the "Client View" link and share it with your client. This link will take your client directly to the "Client View" of your brief, accessible from anywhere, any time, without the need to create an account. Your client will see an overview of the exercises you need their input on.
As soon as they marked the exercises as done, you will receive an email and a notification in the HolaBrief platform. That's great to track everything in one place.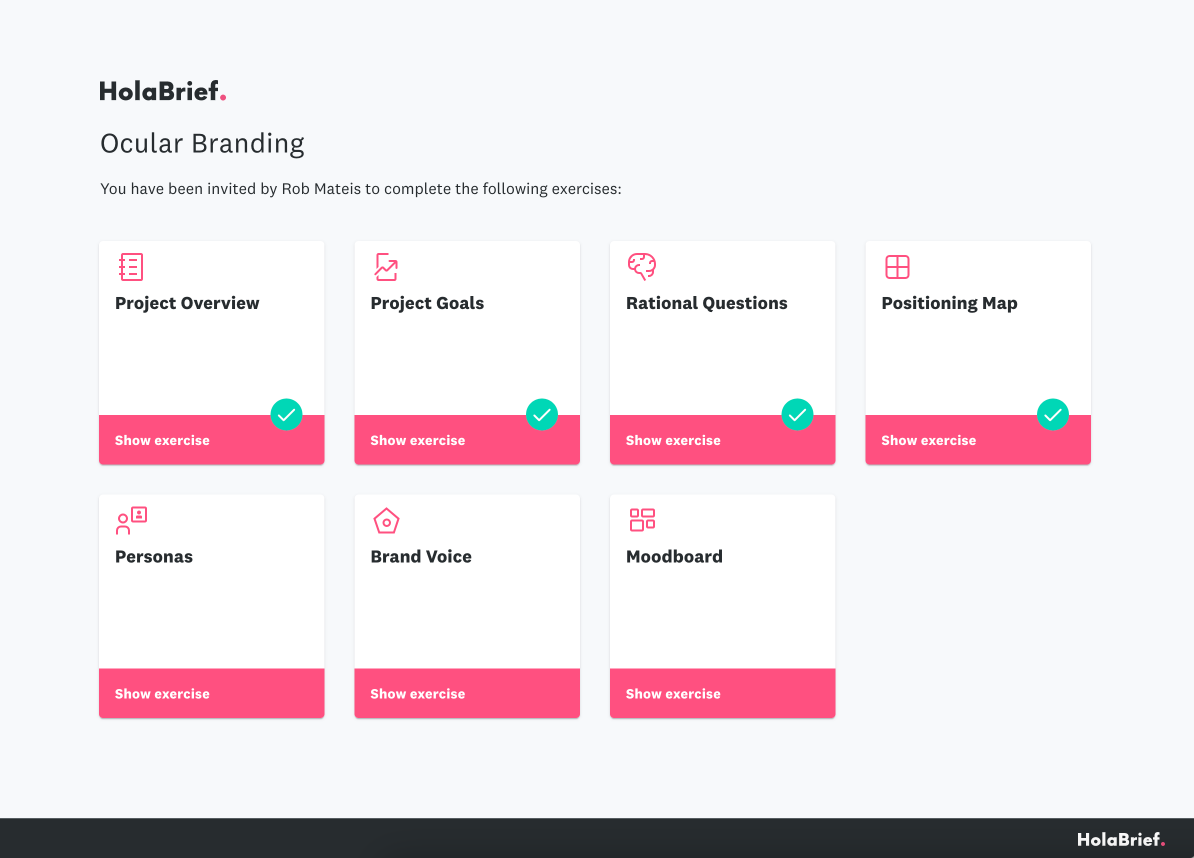 The "Client View" of HolaBrief shows a simple and easy accessible dashboard of all the sections you need input on from your client, without them needing to create an account.


Reviewing, Giving Feedback, or Modifying Current Input
The possibilities this new feature opens up, are endless. Your client can either add input, modify the input, review the strategic research you have conducted, or give feedback. Either way, we made sure that even non-tech savvy clients can easily navigate your briefing documents thanks to a smooth and interactive user interface.
Different Ways to Use This Feature
Primarily created for clients, you can also use this feature in different, creative ways. If you are an agency and work with external collaborators or freelancers, they can complete exercises without the need to create an account.
Guest Access vs Client Access
Within the HolaBrief platform, we already created 3 types of users to join your workspace: The admin, the editor and the guest. But what is the difference between guest access and client access? The main difference is that the guest still has to create an account in order for them to see the exercises, and the client does not. Guests can be external collaborators of your projects that can still add files, comments, and feedback to each exercise. Below is the difference between guest access and client access explained: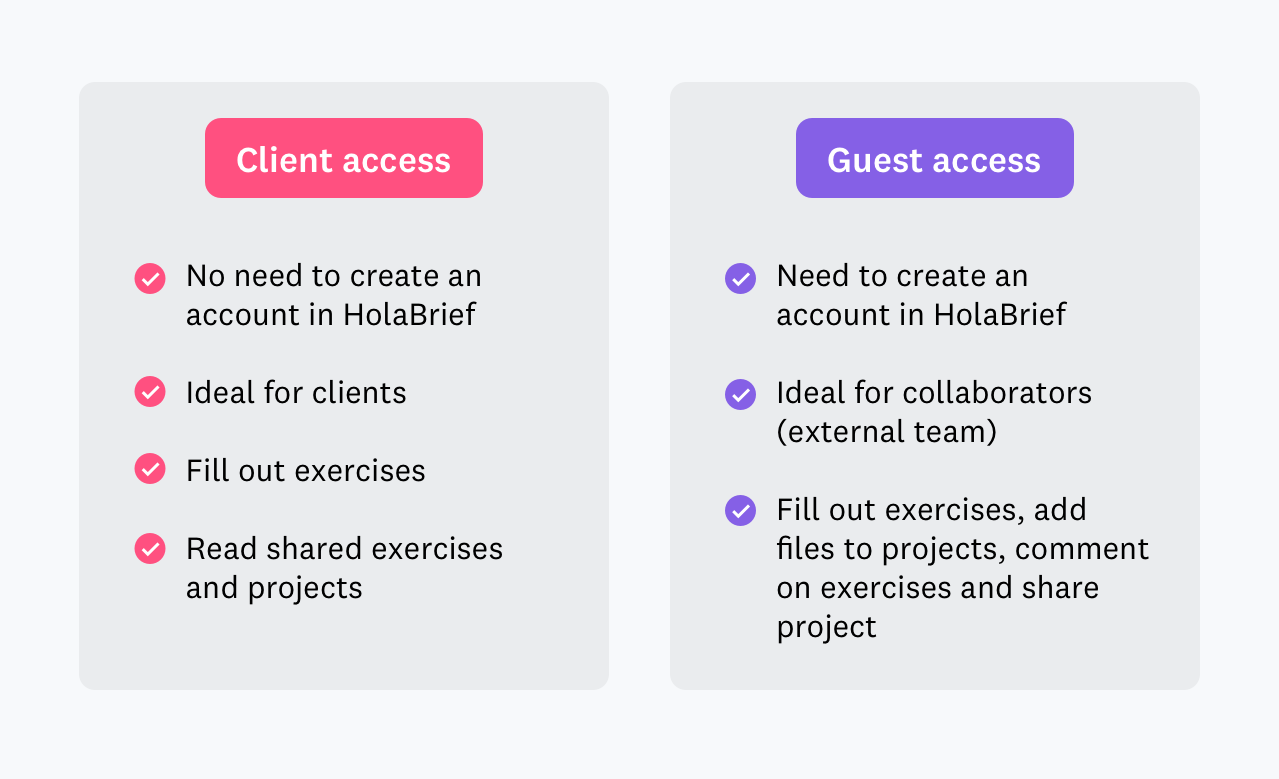 Now it's Your Turn
Many of our HolaBrief customers prefer to do intense discovery workshops with their clients and then share summary documents with them at the very end. Sort of a project bible that you can share with your clients and your team as well. This is still possible by going to the share button and downloading all the completed exercises into one comprehensive PDF.
We truly can't wait to see how you will use this new feature to optimize your client-facing interactions using HolaBrief. Want to try it out now? Simply sign in to your account, create your briefing template and get client input faster.
Have more feature requests or improvement wishes? Write to us with your suggestions and we'll be all ears.?