In the early days of my career, I was a solo freelance graphic designer. I helped any business who needed graphic design work, whether it was a car wrap for a dog-sitting business or a website design for a hospital!
After a winding entrepreneurial journey with lessons and speed bumps along the way, I grew my design business into a successful full-service branding agency. I now have five people working with me, and we focus exclusively on brand strategy and design for the health and wellness sector.
For years I had heard the advice to decide on a niche and specialize in one area of design, but I resisted it for a long time. I was sure that if I limited my focus, I would exclude potential clients and lose out on income.
But niching down is what finally tipped the scales and helped my agency be seen as an expert in our field – and bring in more clients and revenue.
After you scale your agency, you run into a new set of challenges: how to run the internal operations of your agency, manage your team, and keep your existing clients happy – all while bringing in new business. Here's what I've learned about the processes and strategies that can help when growing a branding agency.
Finding more of my ideal clients
Once my agency established that we only work with clients in the health and wellness industries, finding and attracting our ideal clients became simple. Instead of trying to contort our marketing to appeal to everyone who might want our services, we were able to hyper-focus on the exact problems our clients were struggling with.
Were our ideal clients in the health & wellness industry attending tech startup events here in Austin? No, they weren't – so we stopped attending those. Were our ideal clients reading our blog posts about general branding and design topics? Not really – people were reading our blog, but our readership was too general. So we started writing articles specifically tailored to pet brands, skincare brands, and other sectors within our niche that we wanted to work with.
Content marketing has been the primary way we generate leads, and especially through blogging.
Building up the SEO of your agency's website can take time, and many people neglect this in favor of working on their client projects. But if you have a strong content strategy behind your blog posts, catchy headlines, and a clear target reader, you will start to build a loyal audience.
In addition to our blog, we have an email list and lots of free opt-ins on our website that give real value to the types of business clients we would love to work with. Once we build that trust, it's only a matter of time before clients on our email list reach out for our services.
Keeping clients and building relationships
When my agency works with a client, we give them a comprehensive branding experience: from a brand strategy workshop process they are highly engaged in, to their visual identity design, to the implementation of their website, logo, and packaging materials.
Once their project is over, our clients go on their way and our involvement comes to an end. There are some exceptions to this, like when our clients launch new products and we provide updates to their packaging designs. We also partner with other businesses to help our clients with ongoing marketing, SEO, and content writing support; however, retaining clients beyond the scope of their brand strategy and design project isn't the primary goal of my agency.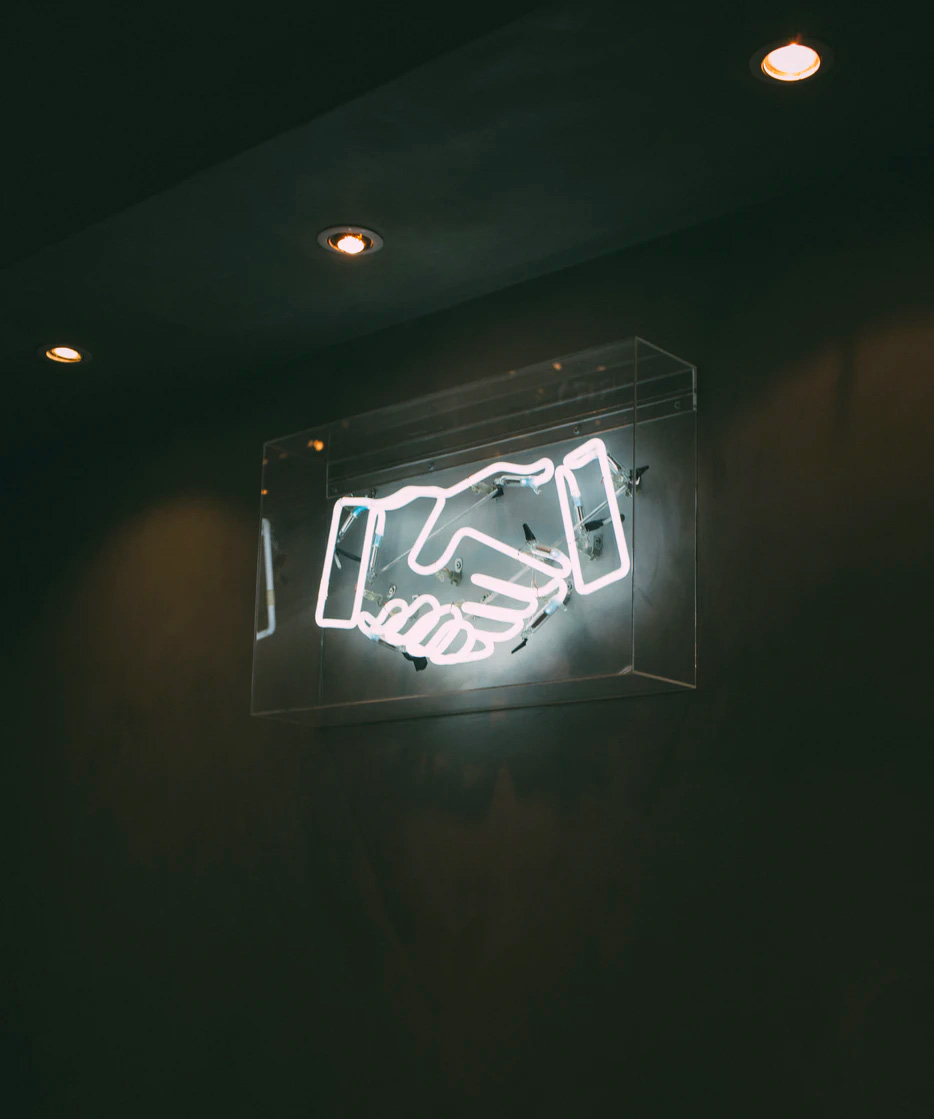 But that doesn't take away from the importance of maintaining long-term relationships with our past clients. We love to cheer for their success from afar, stay in touch, and check in to see if there is anything we can do to help them grow their business. We have been known to send e-gift cards and find additional ways to delight our clients.
One additional way we keep clients engaged is by featuring them in full case studies that showcase their brand. This is a win-win because they get more visibility and we get to showcase our work and provide social proof to future clients.
Bringing on more freelancers and designers
It can be hard to know when to hire assistants, freelancers, or designers. For me, I got to the point where I couldn't not have a team because I was just working constantly. Even after raising my rates on a consistent basis, I was swamped in client work.
I also knew that unless I dedicated the time to set up systems and processes to attract future clients, I was at the risk of having a dry spell once my existing clients finished. This need for help was especially clear when it came to content: I love creating content for my business, but between needing to write Instagram captions, SEO-optimized blog posts, website copy for my clients, emails for my list, and the content within our opt-ins and downloadable products… there was just too much.
I have been outsourcing web development work for a long time, so I was already comfortable with being direct about my needs with other freelancers. I leaned on those skills and hired someone to focus on our content marketing, and eventually, I hired another designer so I could focus more on growing our business. And we grew from there!
My advice for entrepreneurs hiring their first staff is to get clear on what you want your role in your business to be 5 years from now.
Do you want to design logos? Do you want to be running brand strategy workshops? Do you want to be behind the scenes? The answers to those questions can help you identify who to hire first and what kind of help you to prioritize.
Internal and external communication
Even though my team has grown, I'm still the point person that manages each project with our clients. Our clients appreciate having that personal touch and attention from the founder. That might change in the future, but for now, I enjoy completing the brand strategy and watching the "aha moments" that entrepreneurs experience.
Working with our clients in a high-touch way makes them feel involved in the branding process, and it also prevents any surprises down the line. From the initial conversation over Zoom to the brand strategy workshop to the project brief, to every step that follows, we clearly communicate with the client why we are taking a certain design direction.
As a team, we use asynchronous tools like Trello, Asana, and Slack to keep our projects on track. Our documents are all on a shared drive so each person on our team has access to what they need no matter the day or time. We're spread across a few different time zones, and it just makes sense for us to keep everything in writing so we can refer to it later.
I do like to go to a coworking space with our Austin staff when I can, as that in-person collaboration can spark new ideas. At the end of the day, it's up to me to make sure everyone is clear on what our priorities and deadlines are.
Working effectively as a team
One of the first things I learned when scaling my agency was that it helps to overcommunicate with my team.
If I have a vision of how the workflow should go, I need to spell that out and make it as clear as possible. Everyone has unique talents, and as the CEO I see myself as the conductor that keeps our diverse strengths and personalities focused on clear deliverables.
I'm proud that my branding studio has grown, we have purposefully maintained a positive and collaborative work environment. Sometimes I will get a content idea in the middle of the night, create a rough draft, and then we end up changing it to work better for Instagram. Sometimes a designer will create a template and our content writer will catch something that could be tweaked – or vice versa. Everyone is empowered to give and take respectful feedback, and through that collaboration, we create an amazing final product.
Agencies have a notorious reputation of being high-pressure and stressful, and that's never how I wanted to run Aventive Studio. Yes, we do a lot of work quickly. Yes, focusing and prioritizing is important. But treating the contractors, designers, and writers in your agency as humans rather than productivity robots will go a long way to keep everyone engaged, enthusiastic, and connected to the task at hand.
-
Scaling up your business? Looking to keep the team and the clients aligned? Use our HolaBrief briefing templates so you can invest more time in establishing great client relationships without losing the overview.