Always wanted to find out about the ins and outs of a design lead at a digital agency? How do they manage their design projects in an efficient way, keeping all stakeholders on the same page? How do they make sure the (remote) design team is aligned in order to create a fruitful outcome? We introduce you to Miro Kirov who will share his professional insights with us.

Miro is currently an Experience Design Lead with a background in UX Design, business, and programming and with more than ten years of industry experience. His strength today lies in crafting web and mobile apps with his design team. Throughout the years he's enhanced diverse skill sets by being involved in various work environments - being a freelancer, a partner in a few startups, and a lead at digital agencies. In his latest role, he is leading projects for Fortune 500 clients to success by facilitating Design Thinking workshops across the US.
In this interview with Miro we uncover step by step (from attracting leads to internal communication, to the discovery meeting, to the design process and handoff) how he manages himself and his team successfully in order to wow happy clients with their creative work.
But first a little more about Miro himself:
What made you follow the road of UX?
Being a second-generation designer, design has always been a passion of mine. To this day I still vividly remember how my father used to demonstrate the way colors blend on a paper through a printing lupe. Growing up as a teenager, I worked in the family-owned agency where print taught me valuable lessons about being precise in my work and the importance of a polished end-user experience. When designing for a physical product there is little to no place for mistakes. Lots of trials and errors later I found myself fascinated by the intersection between the human mind and the computer, discovered user experience as a discipline and I never looked back.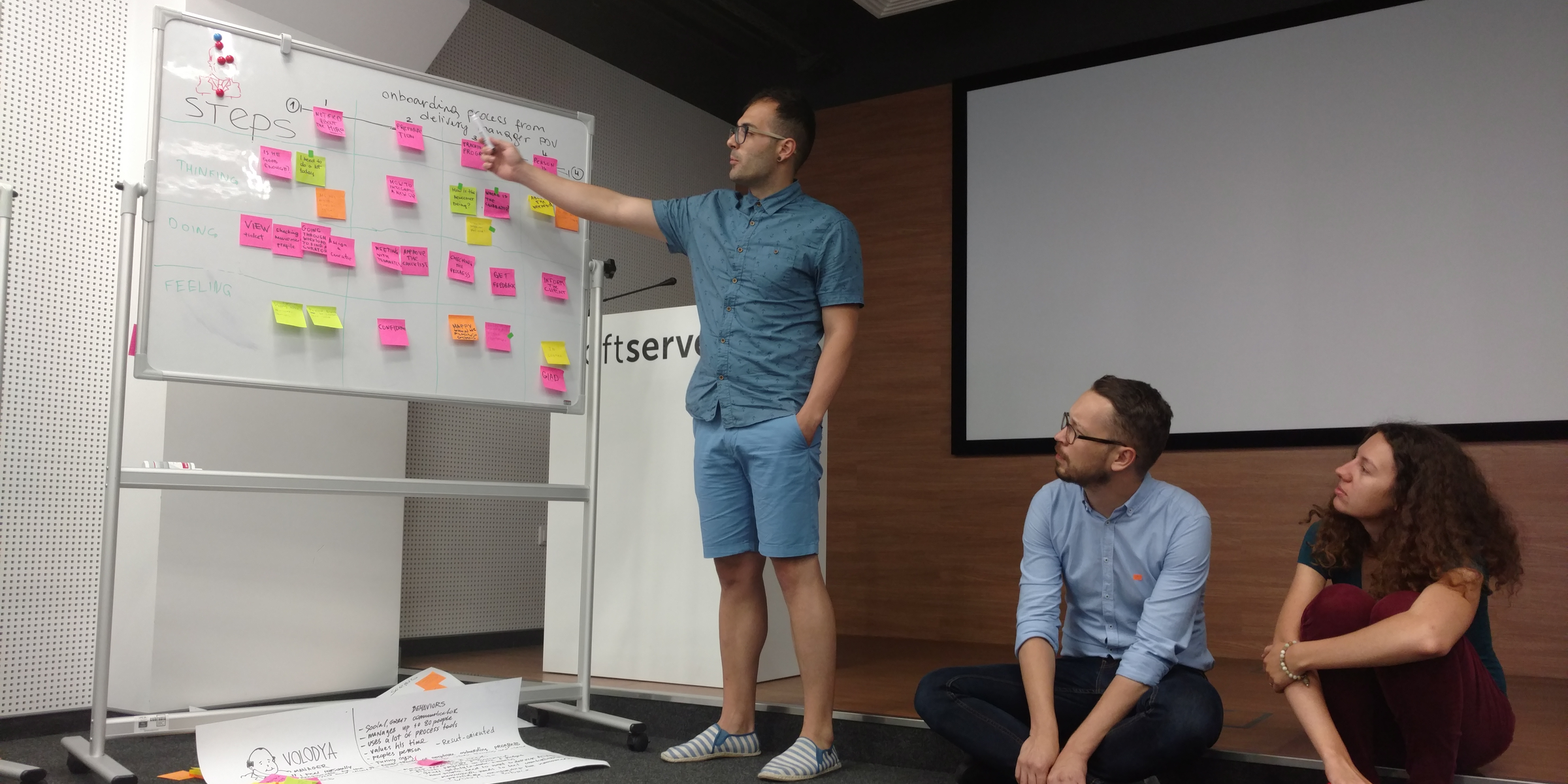 What is your current role?
In my current role as Experience Design Lead, I am responsible for the acquiring of new clients and bringing new business to the company. I usually do so by helping companies solve specific problems by tackling multiple solutions. Part of my process is engaging in early sales calls and understanding the client's business and their customer's pain-points, typically followed by an on-site visit to their office for a discovery phase. I'm also responsible for documenting the outcomes of these phases in briefings and transitioning the project to a visual designer for execution, after which I shepherd the project throughout.
You evolved from working as a UI designer to becoming a partner at a digital startup to managing/leading your own design team. What has been your biggest learning curve?
I believe the first pivoting point in my career was when I realized that design is more than visuals. Although I love fine art and all types of visual communication, through time I understood that what matters is how products work, rather than how they look. Later on, I realized that building a great digital experience is not a one-man job. As designers, we tend to focus on our own vision for a product, but I learned the hard way that letting go and embracing other mindsets expands your thinking horizons.
All of this taught me that collaboration between cross-functional teams is the most effective way of solving problems.


Talking to Leads
Miro mentioned he is also responsible for attracting new business. With his background in design, here are a few tips on how he communicates with new clients:
Does the perfect client exist?
Every client can be perfect as long as you find a mutual language.
You are in an early sales call with a prospective client. What are the steps you go through to make this a successful sales call?
In these first moments of interactions, it's all about extracting the right information and building trust. I try to steer the conversation towards a productive discussion about the customer and business issues. The keyword here is discussion, nobody likes a single-sided conversation.
Can you give us an example of how you communicate your process with your prospective client, in order for them to take on strategy + design?
When talking to prospects, it's helpful to speak the business lingo. I'm usually prepared with examples of how design thinking reflects on the numbers, for example, cuts on development costs, increased customer satisfaction and team effectiveness, etc. Recently I've been drawn more and more into the data-driven design, which has reflected on the way I present case studies.
Providing exemplary projects from similar industries with actual measurable results has been highly appreciated by clients.
Any tips on how to build rapport with your leads?
It's all about trust. Be empathetic, adapt if needed, and always work towards a common ground.


Internal Alignment
After landing the client, sending over the proposal and signing the contract, Miro is firstly responsible for aligning with the communication with the client and the team. Briefings play a very important role here. The project brief is being used to document the budget, expected timelines, client, and project overview to share with the internal design team.
How do you optimize internal communication, making sure everyone knows the goals, responsibilities, and deliverables and expectations of the client?
A well-defined project brief has been proven to be crucial in my practice. Briefs are an important part of my workflow and my go-to method to get everyone to a mutual understanding. I usually receive the first project brief from the salesperson I work with on the specific project, which has come from a client request, either through the website form or initial customer call. That project brief is usually based on a 1:1 conversation or email communication between the client and the sales. The second brief (the design brief) in my process is the one created by me, outlining the summary of the research and discovery. In this design brief, I usually have more in-depth project requirements and findings.
What's mostly included in the project brief?
This project brief is a high-level summary of the communication so far and is mostly internal. The important items I outline are budget, expected timelines, client, and project overview. Some of them may be estimates at this point, but without those four items, I wouldn't continue forward. Depending on how far we've gone into the conversations and the client's knowledge of the product, we also might include user research information, competitors, success metrics, and even estimated team size. Although everything is documented in a note-taking software, I personally take the information from the project brief and create a summary presentation, which we talk about on-site, at the beginning of the discovery meeting.


Kickoff or Discovery Meeting
When the project brief is defined, Miro prepares the kickoff or discovery meeting with the new client. In this meeting or workshop, Miro digs deeper into the problem the client is facing and analyses the end-users in user persona templates, defines competitors and specifies product opportunities. He does that with the help of design thinking tools.
You mentioned you travel on-site to do a discovery workshop. What if a workshop is not possible? What would you do to make sure you get the insights you need for the discovery phase?
The workshops in my process are a way to interpret the gathered information from user research and get everyone on the same page while giving them the possibility to empathize with their customers. It's also a safe spot, allowing cross-functional teams to embrace creative confidence and generate solutions to a problem. Nowadays we're lucky to have an array of tools in our hands, which promote a safe online environment. If an on-site workshop is not possible, I usually conduct the user research up-front and then organize a remote design thinking workshop. You can read more about how I do that in my article in UXMatters.
Have you done research already before the meeting or asked more info from your client to set-up this meeting?
Great question. I always try to do my own google research even if I have lots of prior information. Sometimes I find random opinions on the product from forums or reviews online, which I've never heard from the client. I try to get a sense of the company and what customers think of it. Most of the clients appreciate it if you send them a questionnaire in advance before the stakeholder interview, so they can be prepared.
During the discovery with your client, what are the tools or techniques to have a fruitful outcome?
During the user research part, some of the most helpful techniques I use are user interviews, contextual inquiries, and data analysis,
but where it all starts to make sense is during the workshop where we all get on the same page and summarize all the information together.
How important is conducting a competitor analysis as part of your research before starting the design process?
I find it extremely valuable. There are two schools of thought on this. Some designers prefer to not review competitors, so they aren't biased in their decisions, while others always do a competitive audit. My practice has shown me that the latter is better because you might end up doing the same feature or solution, without even knowing that it's already out there! Don't reinvent the wheel, improve it.
What are the 5 essentials you use in your user persona templates?
When in a workshop we usually do lean personas, so we do only archetype, demographic, behaviors, needs, and a quote. After that, we usually elaborate on the persona and we might add a bio, values, personality, and others...


The Briefing
After the kickoff or discovery meeting, Miro summarises the outcome in a well-written design brief to align on project goals with the client, find the right designers for the project, and transition the knowledge to the whole team.

How do you summarize the outcome of the discovery meeting?
The design brief in the process is like a report or a summary, outlining the outcomes of the discovery phase. Some people call that part of the project: requirements, strategy, research findings, or the creative brief. In this design brief document, I have a description of the project, a clearly defined deadline, much more precise than the project briefing, design resources needed, and expected deliverables. I usually establish core project principles and goals at this point.
It's better if the goals are measurable outcomes, which we can revisit after shipping.
The second part focuses on user research and competitors' finding. Highlighting the personas and their empathy maps, the current product flow, problem statement, product opportunities, and competitors' audit. Depending on the project, wireframes and concept screens are added, to set the visual design direction. Another key piece is limitations or technical specifications for the product. I use the design brief to align on project goals, find the right designers for the project, and transition the knowledge to the whole team.
I found that HolaBrief is a fantastic platform that specifically focuses on project briefings and also helps you build UX templates like user personas.


Design Process
As a design lead, Miro is managing creative projects from onboarding to the final presentation. Usually, he is working with remote designers which makes it all the more challenging. How does he make sure the design team is producing the features that align with the business needs of the client and the needs of the end-users?
What if results delivered by your (remote) team don't match yours or your client's expectations? What could be possible reasons for this?
Throughout my experience, I've encountered a multitude of reasons for this, but usually, it always comes back to some sort of miscommunication. I'm a firm believer that over-communication is better than under-communication. A lot of the issues on the end-product are usually coming from people working in a silo for a long time and not documenting their process, thinking, and vision. As creatives, it's really hard for us to share our work early and often and that results in an information blackout, which causes friction between the working teams and the stakeholders.
What are the common frustrations project managers of design teams are facing nowadays with remote working becoming the new standard?
In a big chunk of the project I've been involved in, project managers tend to feel under-informed. They're usually afraid they're missing the project's progress, due to working on multiple projects or not knowing if the team members are delivering what the client is expecting. They're also afraid that the features produced are not improving the product or satisfying business and customer expectations. My advice would be, focus on open communication and be sure to reflect every step of your process into briefing documents. Nowadays it is more important than ever to create project briefings and set the direction for success.
Scarce project documentation will inevitably snowball into unsatisfactory end results.


Mention 3 things necessary to have a quality output with a happy client.
1. Set clear goals in the beginning
2. Present work early and often
3. Measure outcomes and evolve the experience


Closing thoughts
Now that we've guided you through the design process of Miro's creative projects as a design lead, he shares with us closing thoughts on the perks of the job and future plans that involve writing his first e-book on design discovery:
What is the one thing that makes you realize how much you love your job?
Every day I wake up, I feel truly blessed to be contributing to society. Making people happy is the most grateful experience for me and seeing the smiling faces of the users we test software with, makes me extremely satisfied. As designers, we have the superpower to make people fall in love with their job, by improving the tools they interact with every single day.
What are your career goals?
Currently, I'm transitioning into a new, super exciting role in one of the biggest companies in the world. I love statistics and its role in helping us create a better future for our users, so I'm really getting into data-driven design. For the next few years, I'm hoping to get to a level in which I can easily justify design decisions with real data and see how my designs impact the end-users on a major scale.

Any exciting future plans coming up?
After months of trying to find resources on discovery and initial project requirements gathering, I realized there isn't as much information about it as I thought. It's an important piece of the puzzle, which agencies and designers around the world struggle with. So I wanted to share my valuable lessons learned throughout the years in the form of an e-book on design discovery. I'm hoping to get it published before the end of 2020.
–
Thank you Miro for elaborately sharing your experiences with us! If you want to read more about Miro's design thinking, check out more of his writing on Medium or Twitter. His interaction and visual designs are documented on Dribbble and mirokirov.com.