You know what's sad, tho? Just because you are doing some form it, without being conscious or embracing it entirely in your process you are leaving a lot of good opportunities, for your clients and yourself, on the table...
Ugh.
I am a strong believer that the quality of your work can be exponentially better just by spending some time working on a more strategic approach. Strategy opens a series for opportunities for your clients in terms of positioning, differentiation and industry insights, which you can apply to the design part of your process and deliver more value.
It baffles me the amount of designers, interns and freelancers, who don't even do their due diligence when it comes to the client's industry, business, trends and other types of qualitative and quantitative research. How can one be designing solutions of any without the sole foundation for that business? Makes no sense, right?
What's strategy?
A war general will use strategy to win a battle, by cleverly analysing his/her enemy and his/her own position. It's about being able to see your unit through the goal (win a battle), the context (terrain, weather and other natural threats, condition of soldiers, such as thirst, disease, hunger), and of course, the competitor.
The tactician in that case, need to use these "hints" (context, trends, behaviour) in order to organise and plan an attack and a dozen variations, see loopholes and protect the areas that need protection.
You get some information (data) and in a condition of uncertainty, you try to get an upper hand on situations.
Switch up the terms as you please, and you've got a recipe for any kind of strategy. Brand strategy is always in the context of the brand now (duh, genius) – whether it's an established business or not. That incorporates the competitors, the clients and even the employees (the real soldiers here).
Your role as a brand strategist (or any kind, really) is to see the context from an advantage point, see possible tactics and facilitate the application as well as different outcomes so you can easily switch up tactics as required.
Strategy will require scouting. Research is a vital part of strategy, and so is communication. Being clear and concise will go a long way when you are working with your clients.

Strategy builds a better brief
The role of the strategist is to diagnose the problem the business is going through and facilitate a solution. It may be a lack of understanding of the market, a bad brand definition, no vision, bad communication within the company, no company culture, and so on.
The workshop
Remember when I said you already do some form strategy? Let me prove it to you. You will:
send a questionnaire to your clients to know more about their brand, competitors and clients,

struggle to keep them focused on the purpose of the project,
have endless revisions.
You know what's missing though? The ability to turn that information you acquire into actionable, growth driven steps that your clients can then use to continuously grow their brand, instead of simply changing the logo across social media (and keep them focused in the project).
The deeper problem with that approach is that it yields a low value return for your client, which in return yields vague and incomplete answers because it feels much more like a task and homework.
Turn that questionnaire into a conversation. Your client will feel engaged and part of the project, and you will uncover insights and make your client feel understood. On your part, you will be able to uncover the real problems of the project plus position yourself as an expert and consultant, which inevitably will open doors for more projects for you.
Remember that the role of a strategist is to see the context? You want to diagnose the real problems, which are usually related to the brand and permeates the company.
I would say that the easiest way of learning how to do that is to print out your questionnaire questions and create a conversation around them in an understanding way. It also helps to create small and quick exercises. For example, when you have to fill the client profiles, instead of filling in the blanks, just make it a fun and engaging conversation about the people they see purchasing often and how they look like.
1h might not seem enough for these, and you can increase the time gradually as you feel necessary and confident, you may go up to a whopping 6h - 7h, in 3h splits in certain cases, depending on the scope and on the complexity of problem. When doing those workshops, have them meet you for a coffee and go over those points with them face to face. It's better to do these in a professional space, like an office, ideally in yours, but you can always resort to an online conference over Zoom (who still uses Skype?!).
Find their pain – and thus, the real problem. Understand what's missing in their sauce. Oh, and remember, you need to have this conversation with decision makers, aka internal stakeholders, of that company (that generally means the C Suite or the founder). The goal of a workshop varies to what kind of strategy you are creating and the context of the business, but what you want to do is to get to a consensus and understand where the decision makers want to take their brand to.
Some questions we've listed in out Strat It Up! Expansion eBook and that we use in our process include the following:
How do you work? Give me a succinct explanation of your process. (It can include client service, hiring processes, etc. It helps to visit their location to get a first hand experience as well.)

What is the company culture like? (If they are an established business)
What is the history of the company? How did you found it?
What are your goals and ambitions with the company?
What is your desired ROI for this project?
How do you want this project do impact the growth of your business (you may add: in the next 3 months, 5 years etc)?
What is the process behind your product?
Who's your (ideal) customer? (proceed to describe and understand them with profiles)
Those are few ideas, but you get the gist. I would also suggest doing a competitive analysis, which you can either print out the worksheet in the eBook or use HolaBrief's own version of it.
You should also go through certain aspects of their business before the second workshop session, such as their current brand strategy (they probably call it positioning, which is wrong, of course), collect their current vision, mission, their positioning statement if they have any, values, understand their financial system and their sales history and all their process. On your own, you should feedback and reviews from customers, and facilitate a feedback session for their employees. The very least, you will have a lot of homework to go through before your first session together. That way, you can go through the following sessions with a better understanding of their brand and challenge their thinking.
You also want to understand their market and audience by figuring out who their tribe is — or the tribe they should be nourishing. This is crucial to help clients establish an emotional connection with the brand. But how do you that effectively?
As you've probably figured out by now, there's a lot to cover on a workshop, specially if the business has been around for a while. The market is probably one of the crucial parts to cover because they are the ones that, technically, make the business "exist". Without the marketing being engaged and aware of the brand, there's no sale, and without sales there's no business.
Here's an overview of market vs ideal client vs persona: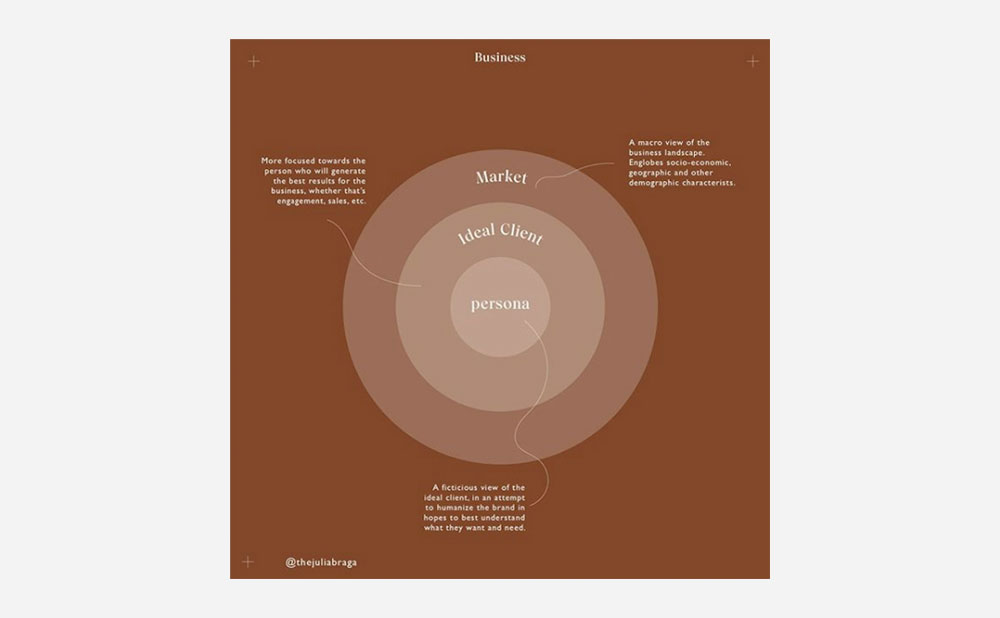 Your goal is to understand the market so that you can create messaging and other cues, including visual, that will retain their attention. Who are they? What are their needs? What kind of products they use, and habits do they have? How do they really buy (not how they say they buy)?

For example, if your client's market is coffee, you will have many levels and situations to think about on how people interact, purchase and what kinds of emotions you want them to have towards the product and the space and what emotions they will actually have.
Is that coffee primarily purchased on big city markets? Then they probably have it at morning and maybe in the afternoon, on lunch break. A feeling of a fresh day with a cup of coffee and a nice toast. Of course, it's not that simple, you need to think about the competitors, price points and so on, but you can see how it's important to understand the different levels of the target market since it will affect many layers of the brand, and the way people will enjoy the product, hear about it, engage and convert.
There are tons of strategy frameworks out there that will give you all sorts of directions and paths. Whatever you decide to choose, in the end, you need to ensure you are seeing that business from all angles. At Truu (and in the Strat It Up! eBook), we use our own version of the Brand Spectrum to cover the bases: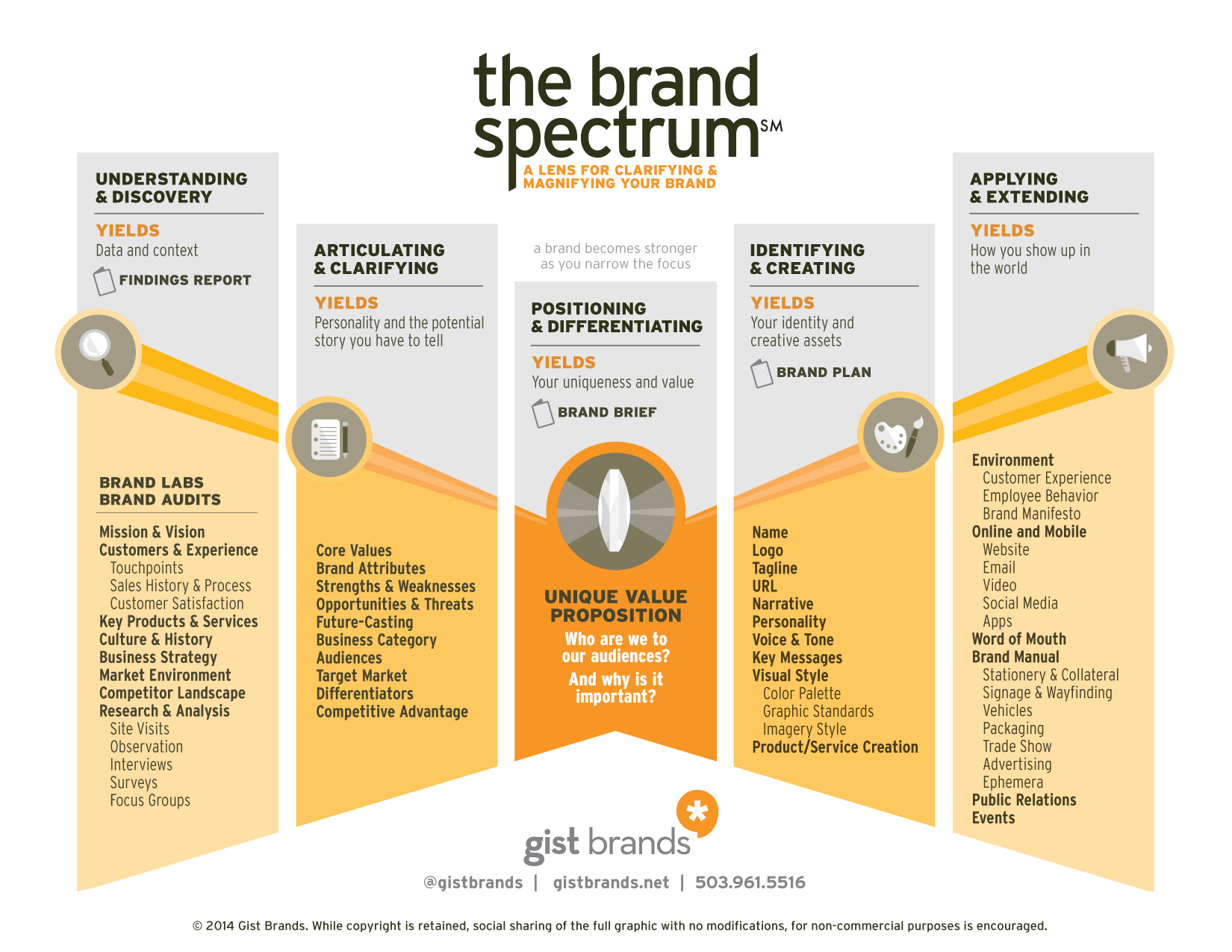 My process is filled with sub-frameworks that are too wide to list and that I can use to pull in during the process and workshops at any time.
Gathering data and conducting research
Gathering data is probably the hardest part of the process, and a lengthy one at times. When gathering insights for the market, you will need to see from the supplier angle, customer angle and the business angle. This is when you go to observe their processes in first hand, you interview their customers and employees, you create surveys, focus groups etc. Whatever it takes, as long as it is constitutional, is valid! One idea for small shops, for example, is to hold an event where customers answer a feedback poll, eat cake and drink coffee, and have a special discount after completion.
The key is to always give something back. You could apply the same idea with the employees, for example.
When it comes to researching the market and the competitors, things may get pricy and even harder to come across. Data and insights are expensive and of course, no one wants to divulge the secrets of their trade. The business you are working with has to either have the budget to conduct the research or buy you reports. If you are lucky, they will have a research team in house or data addicted marketeers to feed you some info.
There's just so much data you can gather for free, but depending on your niche, it might be enough. The internet as we all are tired of hearing is a fostering place for information.
Here are some great places online to conduct research:
Also, don't overlook the socials, specially for customer data. In the internet, everything has a tribe, and there's a big chance you will get honest answers and insights on the market:
Remember, above all else, you are trying yo understand *people*.
Places to gather customer and audience related data:
Google Analytics and Search Console (if they have it)

Facebook Page Analytics
Instagram Business Analytics
Twitter Analytics
Yelp Reviews
Google Reviews
YouTube Analytics
eCommerce sales report (Customer Life Value, Demographics etc)
Email Marketing data
Focus Groups
Quizzes
I love how Printify conducts research to understand which products to add to their inventory. If you have a store with them, you will now and then get an email where you can vote for the products that you want to see next. It's a huge differential compared to their competitors, who have an open forum that has requests from 1 to 4 years ago that look forgotten.
The way a companies interacts with their followers and customers maybe also be an indicative on how that relationship works. Sometimes, the clients expect something from the company and they are oblivious of it.
Understanding KPIs and why they matter
In order to keep track of your numbers of success (like in the quizzes), is to set a few KPIs. KPIs, or key performance indexes or indicators, are data points that you want to track. How many people opened the Typeform questionnaire / quiz in their email vs how many replied? You can set a few KPIs for each project, and look at them to understand better the relationship between your client and their clients.
Let's say that you are creating a strategy for Instagram. With enough understanding of the platform and the content you will provide, what should you be tracking? The important numbers are not the ones that everyone's so obsessed with, such as likes or followers. At Truu and in my main account, our main Instagram KPI (specially now that they are hiding likes in multiple countries) is actually the amount of times that post has been saved. Our second IG KPI is then the amount of times that post is sent to someone. I want our content to be valuable enough that people will use it as reference or inspiration (save) and want their friends to also gather the knowledge or just because they relate with it (sends in DMs/shares to stories/comments).
On email marketing, click throughs are much more important than open rates, specially if you have a call to action (a button). However, that doesn't mean you can't use the open rates to bump click throughs (you should just see them as non-clicked throughs, yet) by developing strategies for such. KPIs matter because your strategy is revolved around them, and they will help you determine if you need adjusting anything in your tactics or add layers to your consumer journey.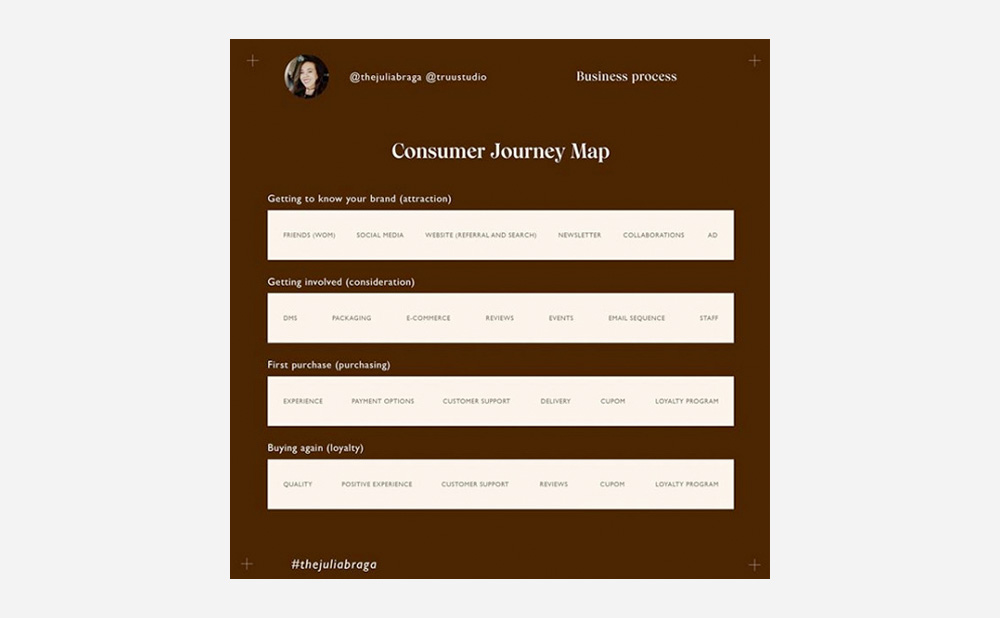 Figuring out how to connect the brand with its customers...
…Is the hardest part, isn't it? It would be magical if consumers and customers simply knew what they wanted — if that was true, though, we wouldn't have innovation. So we must do our job and bridge the gap. Design is what ignites passion in people, not strategies. I think it was Marty Neuemeir that first said that.
Once you have a clear strategy, it will be easier to associate emotions, actions and understand the personality of the brand that will best relate with the ideal customers of the business. Also, because you will test it, and see gather feedback. Empirical research is a huge part of understanding how to connect the dots in your process. Observation, for one, can give you insights in the dynamics in the sales, the "vibe" of a place, and so on, that will form a truer picture that you can work with.
The best way to test if a brand will be well received is by creating a pre launch, launch and post launch strategy, and apply basic design thinking principles to get the job done effectively. With all the data that you recover during the process, you can test different approaches and map out what works for that specific audience.
The key here is to keep it simple, raw and honest, and leave the communication open while you continue to work on the product and the brand.
HolaBrief has an amazing example of a pre launch, which is how we got to know them in the first place. The tool has changed substantially, and thanks to its users. A pre launch helps the company build momentum, introduce a change in features or identity and get feedback from users. Instagram rolls out new features for a group of users for testing before they implement to the whole network. Apple has the Beta programs for Developers and the Public.
For a new brand, you can use Social to show the progress and the behind the scenes, hint on dates of launch, post announcements, and start building a following and rapport around the brand. A blog is a great tool to start, because all you need is industry knowledge and you can always tie it with the product, or deliver free guides to start building a list.
The ways of connecting with the audience are many, and it will widely depend on the context of the business and how much time the brand has to make moves, as well as your marketing knowledge and how much the business has to spend to apply all the strategies.
Don't overthink it. Strategy is not a plan, strategy is finding out how to use what you know and what you have to find to give you and your client an upper hand and solve a problem creatively.
Eventually, you will find out more about the consumers, industry and the business' own products, and you will need to adjust it over time, or facilitate the strategy for the client to do so on their own.